OPI-715SPOT,715FLAT LED MODULE CHARACTERISTIC TESTER(CIRCLE,SQUARE)
Simultaneously measuring optical and electrical properties of circular and panel type LED lamp. User friendly interface for mass-production line.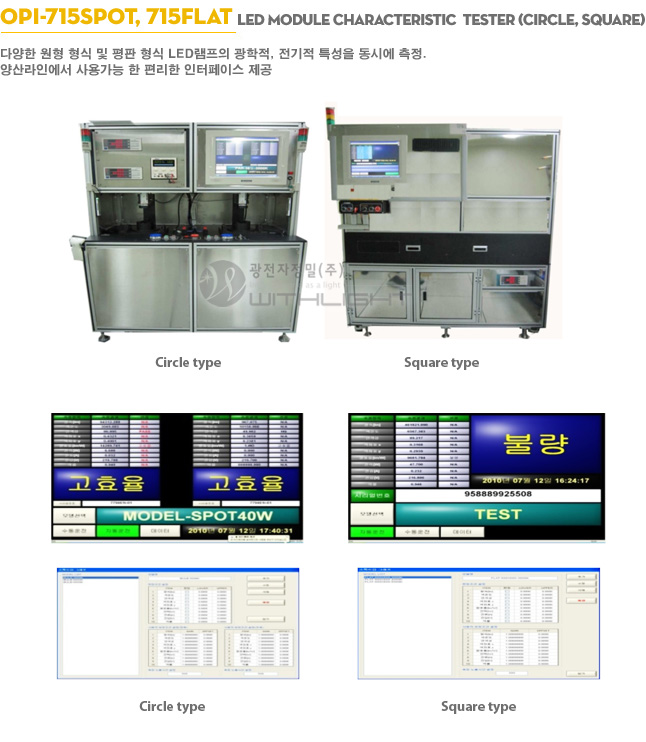 Easy and simple measurement for various items, User Interface

ㆍMeasure optical properties using spectrometer.

- Measure Peak/Dominant Wavelength, Half width, color coordinate, velocity of light, radiant fl

ux, Correlated color temperature, Color rendering index, optical efficiency, etc.

ㆍMeasure electrical property using DMM.

- Measure voltage, current, power, power factor, etc.

ㆍImmediate measurement by selecting a model without having to set up.

- Pre-set up of all measurement conditions for each model. Easy and simple measurement of

various models, User Interface .

- Set up pass/failure conditions for each measurement item.
Can be applied to mass-production line

ㆍMeasure various types of circular and panel type of LED lamp.

- Measure MR type, and PAR type. (Replaceable JIG)

ㆍSupport customized JIG for rapid measurement.

ㆍSimultaneous measurement of optical properties/Electrical property by one click.

ㆍJudgment function. (PASS/FAIL)
Accurate and stable measurement

ㆍCorrection using Korea Research Institute of Standards and Science certified standard lamp and LED.

ㆍProxy for Korea Research Institute of Standards and Science(KRISS) correction certification (Optional)