OPI-120 LED TEST SYSTEM
Optimized equipment to test LED for testing performance and measurement in compliance with ISO standard.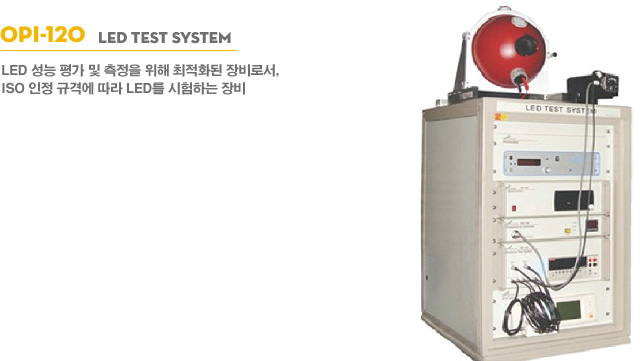 Provide integrated measurement for optical and electrical properties

ㆍMeasure optical and electrical properties in compliance with LED measurement standard.

ㆍhigh sensitivity and resolution spectrometer - Peak/Dominant Wavelength, Half width, and color coordinate.

ㆍMeasure light height, velocity of light, intensity radiation, radiant flux, correlated color temperature, Color rendering index, optical efficiency, etc.

ㆍhigh speed and precision Sourcemeter - forward andreverse current/voltage, and Sweep

ㆍDisplay uncertainty % of measurement results.
Equipment control and data transmission using ETHERNET

ㆍTCP/IP control of Spectroradiometer, Source, Goniometer, Illuminance meter, and Temperature controller.

ㆍSave various user conditions and measurement environment as data.

ㆍTransmit data with link to DB.



Measurement system in compliance with CIE standard


User INTERFACE in compliance with ISO standard procedure




ㆍ LED optical properties test underCIE-A/B luminous intensity measurement conditions.

ㆍ LED optical properties testunder total luminous flux measurement conditions.

ㆍLED optical properties test to different angle by usingGoniometer.

ㆍCapacitance property test according to LED's biasvoltage.

ㆍForward voltage property test according to LED의 stressing current.

ㆍEach property test can be performed under the following conditions:

- Single measurement : Perform one time measurement DUT property under consistent environment.

- Temperature dependency measurement : Perform DUT property measurement to change of temperature.

- Current dependency measurement : Perform DUT property measurement according to stressing current.

ㆍAll measurements are performed by using high illuminance meter and spectrometer.

ㆍWhen using illuminance meter, perform accurate measurement viacolor correction.

ㆍ Calculate absorption rate of DUT itself when measuring total luminous flux.

~