OPI-175 EL TEST SYSTEM
Equipment to measure electrical and optical properties of LED epi wafer at the same time.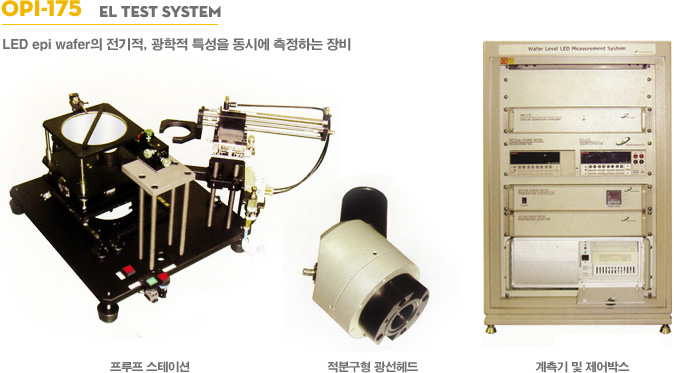 Measure EL property of LED epi

ㆍ Measure electroluminescence of LED epi wafer.

ㆍ Measure upper/lower illumination of wafer by using glass.

ㆍHas measuring sensors in upper and lower parts.

ㆍEasy to move and contact to wafer toward xyz axis by using knob.

ㆍMaximize work convenience and productivity.

ㆍAccurate light receiving by using 2" integrating sphere for light head.

ㆍImprove measurement accuracy by using optical power meter andspectrometer at the same time.

ㆍhighly user friendly SW environment.
Integrated measurement of optical and electrical properties

ㆍoptical properties measurement items.

- Spectral properties: Peak wavelength, dominant wavelength, mid-wavelength, center wavelength, Full width half max, color coordinate, purity, color temperature, Color rendering index , etc.

- Amount of light: luminous intensity, intensity radiation , etc.

ㆍElectrical property measurement items- forward current, forward voltage, reverse current, reverse voltage, etc.

ㆍSweep measurement items.

- current-voltage, voltage-current, current-optical properties.

ㆍMeasure Spectral properties using High sensitivity and resolution spectrometer.

ㆍEnsure accurate and stable measurement of optical power via real time color correction of PD using integrating sphere type input optical system andspectrometer.

ㆍMeasure electrical property using high speed and precision source meter.

ㆍMeasure up to 1A of current stressing.
Optimized for QA and R&D

ㆍMeasure current-voltage, voltage-current, current-optical Sweep.

ㆍSelect various Fourier domains. (UV, UV-VIS, VIS, VIS-IR)

ㆍSelect various power sources (voltage and current) stressing and measurement ranges by using Keithley2400 Sourcemeter.

ㆍAdditional features available as per user requirements. (Optional)
Highly friendly user environment

ㆍ Intuitive recognition of measurement results- measurementspectrum, color coordinate, cumulatedspectrum,

ㆍDisplay results in list format or graph by measuring items, and mapping.

ㆍSetting up various conditions - User selected optical and electrical property items, and sweep measurement settings.

ㆍGrade setting function.

ㆍSave individual measurement value from upper and lower sensors and Total value.

ㆍSave data of temperature change over time. (Data and image file)

ㆍSave and open measurement conditions in a form of Project file.
Accurate and stable measurement

ㆍProvide CIE and KS standard measurement mode.

ㆍCorrect using Korea Research Institute of Standards and Science certified lamp and LED.

ㆍProxy Korea Research Institute of Standards and Science(KRISS) correction certification. (Optional)
Technical support and maintenance

ㆍUser oriented set-up and instruction.

ㆍDevelop SW to meet user requirements.

ㆍProvide measurement knowledge and information through activities in CEI and photometry club.

ㆍRapid A/S: Support jig for measurement of various types of sample.

Voltage Range
±1㎶ ~ ±205V
Current Range
±100pA to ±1.0A
Probe Station
150mm Glass Plate
X-Y Movement : 50 X 50mm Travel
PD Temperature
20℃ to 30℃ 중 선택, 고정
Spectrometer

350 to 830nm, 2048 CCD array type
Optical Head
50mm Integrating Sphere
Photodiode
380 to 950nm, 10㎟ Area