OPI-160 WAFER-LEVEL LED MEASUREMENT SYSTEM
Easy to measure various items, User interface (Support on-demand SW design), integrated measurement of optical, electrical and thermal dependency required in wafer level, automation of measurement and convenient user environment, observation using high r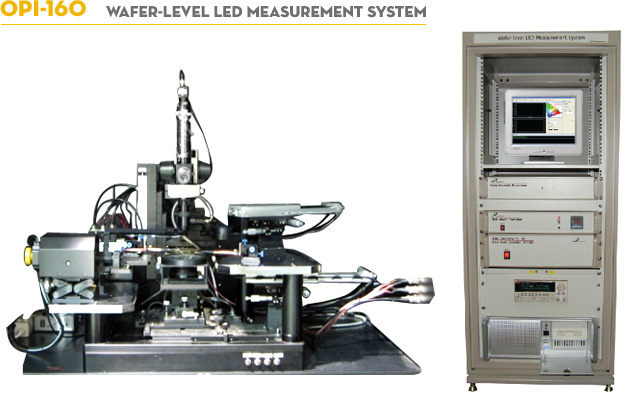 Easy to measure various items, User interface (Support on-demand SW design)
ㆍOptical Measurement
   Spectrum, Peak/Dominant wavelength(λp, λd), CIE Color Coordinate(Cx, Cy), Luminous Intensity(cd), Correlated Color Temperature(CCT(Tc)), Color Rendering Index(CRI(Ra)), CIE XYZ(), Radiant Flux(mW), Luminous Flux(lm), Spatial Intensity Distribution(IES, LDT)
 
ㆍElectrical Measurement
   Forward/ Reverse Current[lf, lr], Forward/Reverse Voltage[Vf, Vr], l-V-L Sweep
 
ㆍTemperature Dependence Measurement
   Temperature.VS.Electrical/optical Test
 
ㆍCurrent Spreading and Degradation Analysis
   Real time Image analysis of LED using CCD Camera and beam profiler software
Optimized for R&D

ㆍ Integrated measurement of optical, electrical and thermal dependency required in wafer level.

ㆍ Automation of measurement and convenient user environment.

ㆍ Observation of Chip Current spreading and degradation using high resolution microscope and camera.

ㆍ Function integration and verification by a number of reseachers.

ㆍ Provide CIE measurement mode andKRISS standard value.

ㆍ High precision measurement using Keithley 2612

ㆍ Low noise and high precision / reproduction using TE Cooled 2048 pixel CCD sensor.

ㆍ Display light distribution characteristics in 2D/3D graphs and data list by analyzing, summarizing and duplicating measured data.